09 Sep 2020
Double celebrations for DPhil student
DPhil student Selena Milanovic is the winner of the Medtronic lightning round competition and recipient of Best Poster Award at a large international conference.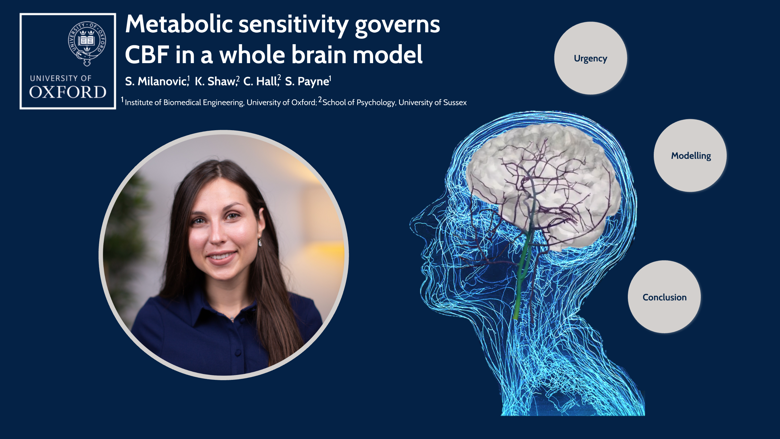 The title slide from Selena's presentation
Congratulations are in order for DPhil student Selena Milanovic, who has recently been awarded two prizes. Selena, supervised by Professor Stephen Payne, is part of the Cerebral Haemodynamics Group (CHG) at the Institute of Biomedical Engineering and researches modelling the flow of blood in the brain. Selena already won a prize for Most Innovative Idea early this year in June, and August proved to be another winning month.
Selena's first success was winning the Medtronic Lightning Round Competition on 25th August this year. Medtronic is the largest medical device company in the world and sponsored the event. The competition aimed to encourage clear scientific communication between researchers and a general audience, a topic which Selena is passionate about. She says, "Very often there is a significant gap between scientific advance and community engagement because of the inaccessibility of scientific articles to the general public. Therefore, I believe it is essential for us to learn how to communicate our exciting findings in an approachable way."
On partaking in the Medtronic Lightning Round Competition, Selena tells us, "The Medtronic sponsored event was an excellent opportunity to practice synthesizing my research in a concise and engaging manner by pitching my DPhil in 3 slides and 3 minutes. Receiving the award for the best presentation is a great honour and an incentive to continue disseminating science beyond the academic walls."
Selena's second prize comes in the form of Best Poster Award, for her poster submission to the Virtual Physiological Human conference, which took place 24-28th August. Selena explains, "With over 650 attendees, this virtual conference aimed to connect mathematical modelling experts to communicate the most promising tech solutions for healthcare. I had the opportunity to present a poster 'Metabolic sensitivity governs cerebral blood flow in a whole brain model', highlighting the role of ineffective metabolic signalling in the development of brain degenerative diseases."
"Receiving the prize for the best poster is a great honour for both me and my supervisor, Prof. Stephen Payne. We view this award as a token of the impact of brain modelling and are also glad to have successfully engaged with the attendees virtually!"