27 Nov 2018
Oxford's first overseas research centre for physical science and engineering opens in China
Eight Engineering Science academics will lead research focussed around biomedical engineering and healthcare, environment and biotechnology, and nanotechnology and functional materials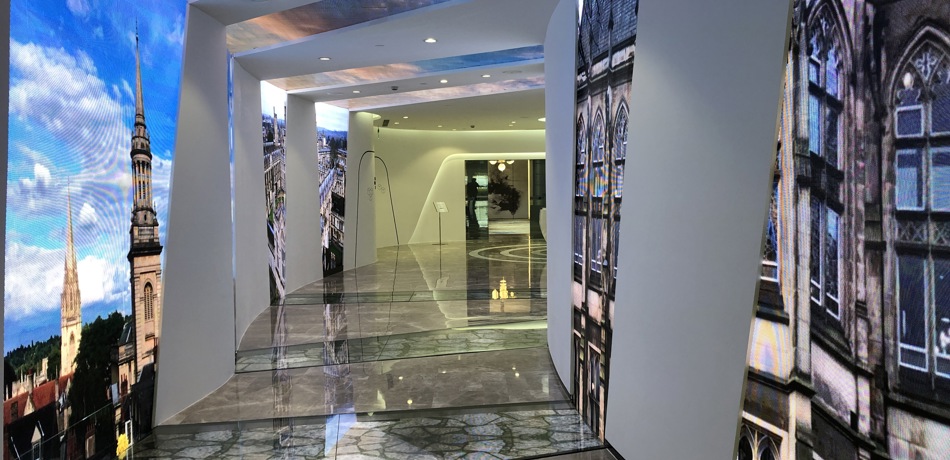 The Oxford-Suzhou Centre for Advanced Research, known as OSCAR, opened last week in Suzhou Industrial Park (SIP) in eastern China.
OSCAR is the University's first overseas centre for physical science and engineering research. Established by Oxford's Mathematical, Physical and Life Sciences (MPLS) Division, it will expand the Division's research activity and enhance the impact of its research.
Vice-Chancellor of the University of Oxford, Professor Louise Richardson, who officially opened OSCAR at its Suzhou location, one hour from Shanghai, says: "One of Oxford's many strengths is our international outlook. This collaboration in China offers exciting opportunities to advance our research and enhance its impact on society both at home and abroad. I look forward to seeing the results of these new collaborations across many innovative and emerging areas".
The OSCAR building will provide 20,000 m2 of high-quality research laboratories, company incubation, lecture theatres and meeting and exhibition space.
Initial research programmes will be led by 12 academics from the Departments of Engineering Science, Physics, Chemistry and Materials. Applied science outcomes from this research are expected to encompass health informatics, tissue engineering, biomedical imaging techniques, environmental remediation, advanced materials and electronic devices. Lead PIs will spend around two months of each academic year physically located at OSCAR.
Professor David Clifton, one of 8 Engineering Science academics to be involved in OSCAR, says: "Our lab in the OSCAR programme focuses on Artificial Intelligence (AI) for healthcare, where we are working with Chinese hospitals and tech companies on projects including digital health, wearable sensing, and AI-enabled healthcare systems.  Access to large quantities of healthcare data is a prerequisite for research in this field, and our ability to work closely with Chinese partners is a uniquely enabling aspect of our work in at OSCAR.  As in the UK, China has very tight regulations on how healthcare data may be analysed, including similarities in the requirement for data to be analysed in-country; hence, our lab in the Suzhou centre will be our primary base for research using Chinese data.  As in the UK, there is an entrepreneurial aspect to our work, and we aim to site a spin-out activity in the 'incubator' facilities within the OSCAR building".
Engineering Science academics will take part in activities clustered across three of the four initial research themes - biomedical engineering and healthcare, environment and biotechnology, and nanotechnology and functional materials (full details below).
Martin Edmunds, Strategic Research Manager for the MPLS Division, says: "We are excited at this new development in the evolution of research at the University of Oxford. We hope that by physically locating research near to the industry base which can make best use of its outputs that we will be able to deliver innovative technologies across a range of applications, for example digital healthcare and industrial environmental remediation, leading to real-world benefit".
He adds: "Working closely with industry will help us to identify and define interesting research areas. SIP is a vibrant place - OSCAR will be in close proximity to over 75,000 students, 5,000 academic staff and 90 Fortune 500 companies. This is a fertile innovation landscape through which academic collaborations and partnerships with industry will form. The research activity in OSCAR is not separate from the research activity in Oxford - it will reinforce our research in the UK".
Donal Bradley, Head of the MPLS Division, says: "This marks the culmination of one journey and the start of another. A common vision and exceptional commitment on the part of individuals from both the Suzhou Industrial Park and Oxford University has allowed us to reach this exciting moment for OSCAR. We can now clearly see the outstanding opportunity that OSCAR will provide for Oxford scientists to work with academic and industrial collaborators in China, on key questions of common interest. Both sides will learn much from each other and our new journey will surely bring exciting advances in science and enhanced mutual understanding. It is a great pleasure to see the hard work of so many people coming to fruition in this way".
Biomedical Engineering and Healthcare
Prof Zhanfeng Cui & Prof Cathy Ye (IBME, Engineering Science) - Regenerative medical technologies
Prof Ronald Roy (Engineering Science) - Application of physical acoustics principles to biomedical imaging, therapy and biomaterial processing
Prof David Clifton (IBME, Engineering Science) - Smart healthcare technologies exploiting electronic health records
Environment and Biotechnology
Prof Ian Thompson & Prof Wei Huang (Engineering Science) - Application of environmental biotechnology and synthetic biology to remediate environmental contamination
Prof Luet Wong & Prof Jeremy Robertson (Chemistry) - Reprogramming synthesis and drug discovery
Nanotechnology and Functional Materials
Prof Paul Stavrinou (Engineering Science) & Prof Donal Bradley (Physics and Engineering Science) - Plastic electronics (including flexible and printable electronics)
Prof Jamie Warner (Materials) - Large scale fabrication of 2D materials
Prof Mark Moloney (Chemistry) - Chemical methods for the functionalisation of materials
Mathematical and Quantitative Finance