Beyond the course
Why choose Engineering?
You may not have studied Engineering before, and could be wondering why you should choose to study it at university.
Engineering is a fun and exciting way to put your maths and physics skills to practical use, creating solutions for real-world problems in sustainability, construction, energy, conservation, healthcare - and much more.
Here's what some of our students and researchers say about why Engineering is such a great opportunity.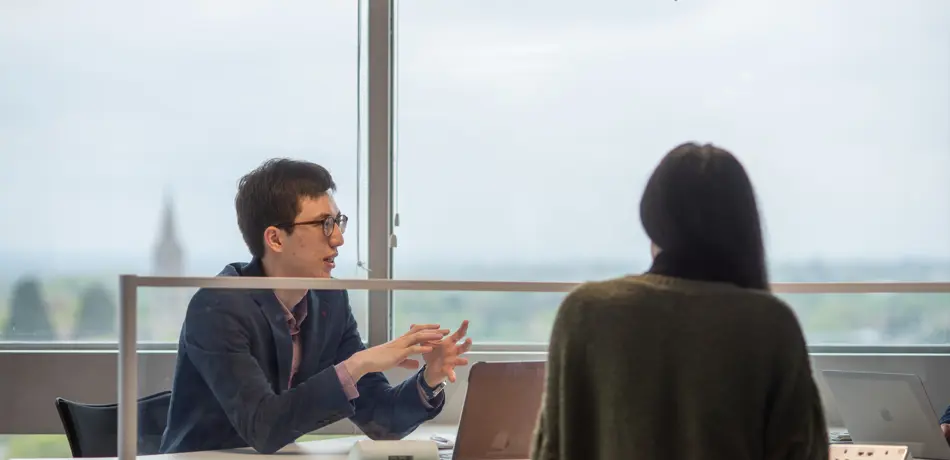 Our graduates
Our graduates go on to careers in a wide range of sectors, including banking, accountancy, computing, energy and the environment – but of course, most tend to work in the engineering and manufacturing sector. They're in high demand, from both multinational companies and lean start-ups.
Some decide to continue their studies at Oxford, or elsewhere, by working towards a doctorate.
Within 6 months of graduating, 92% of our students are in work or further study – and earning an average salary of £30,000.
Callum Coghlan, Alumni
The general nature of the course honed my ability to juggle multiple complicated topics at once, the tutorial system taught me not only how to solve problems but solve them accessibly, and the intensity of Oxford terms (both work and play) made me very efficient at managing my commitments to be able to have the most fulfilling time.
Internships and Placements
The University Careers Service provides access to hundreds of internship opportunities during the long (summer) vacation. They are offered by our international alumni, by multi-national corporations, by world-leading NGOs, by cutting-edge research institutions and many other organisations, and all are exclusively available to Oxford University students. Since the programme's inception, students have completed internships in over 40 countries, and have gained valuable work experience while travelling to exciting and exotic locations
Introduced by the Department in 2019, the EUROP scheme funds students to work on real research projects alongside academics for up to eight weeks during their summer break. The Department hopes the scheme will support the students in their future careers by contributing to their employability and skillset, as well as translating the theory taught in lectures into the research environment.
"The EUROP scheme offers a fantastic opportunity to undergraduate students to get immersed in research and explore a topic of their interest"
Professor Antonis Papachristodoulou, EUROP supervisor
"The internship helped me improve my interpersonal, leadership and management skills. I feel more confident in the world of work because of the skills I developed and from directly experiencing real-life workplace situations."
Engineering student Callum
University Careers Service
The careers service offer advice and assistance in many different ways to students:
CVs
Cover Letters
Sectors & Occupations
Psychometric Tests
See an Adviser
Careers Fairs
The Oxford Guide to Careers
Gain insights into careers in a variety of sectors, read tips on how to build applications that stand out, find out how to improve employability skills, and more, from careers advisers, top recruiters and Oxford alumni.