17 Jan 2022
Five Engineering Science faculty members receive title of Full Professor
Annual Recognition of Distinction Awards confers full professorship at the University of Oxford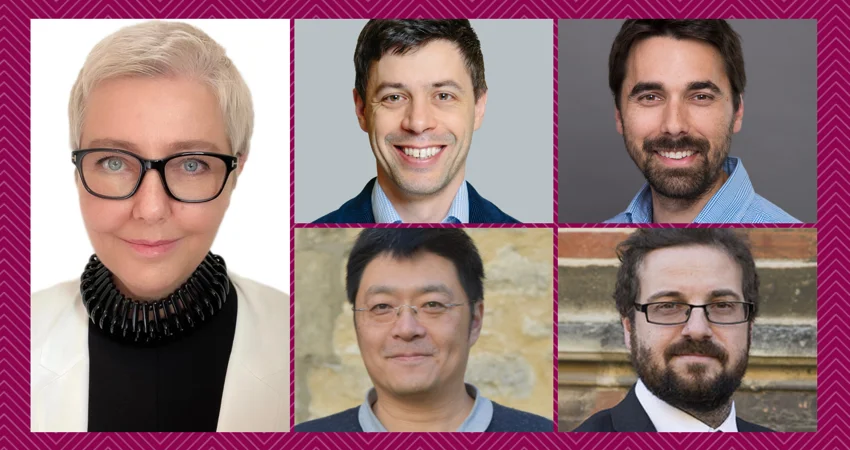 The Department is delighted to announce that five members of our faculty have received the title of full Professor in this year's Recognition of Distinction Awards.
Justin Coon, David Howey, Wei Huang, Susanna-Assunta Sansone and David Wallom were all conferred the title of full professor by the University of Oxford.
Head of Department Professor Ron Roy says, "On behalf of the department, I am delighted to congratulate Professors Coon, Howey, Huang, Sansone and Wallom on their new titles. These accolades are thoroughly deserved and are appropriate recognition of their significant academic achievements and contributions to the department, the university, and the profession.
It is also wonderful to see how these awards spread across the wide range of disciplines in the department, from communication networks to biological engineering, and from energy storage to data science and informatics. I wish them all well for their future success."
Professor of Engineering Science Justin Coon has been with the University of Oxford since 2013, where he heads up the Information and Network Science Lab, focused on projects related to a broad array of theories and technologies in communications systems and information theory. Professor Coon received Toshiba's Distinguished Research Award for work on essential features of 4G cellular technology and has received three "best paper" awards for work on network theory and communication systems. Professor Coon is a Fellow of the Institute of Mathematics and Its Applications (FIMA) and a Senior Member of the Institute of Electrical and Electronics Engineers (IEEE).
Professor of Engineering Science David Howey leads the Battery Intelligence Lab, focused on modelling, diagnostics and control of electrochemical energy devices and systems such as lithium-ion and flow batteries. David works extensively with industry, particularly automotive and power companies, to explore and improve battery system performance — from understanding thermal behaviour to predicting ageing using data-driven techniques. His work has been recognised through best paper awards at ASME DSCC and IEEE IECON, and a Samsung GRO Award, and in 2017 his group spun-out a battery management systems company called Brill Power which continues to grow. David is a Senior Member of the IEEE, and a member of the editorial boards of the journals IEEE Transactions on Industrial Informatics and Oxford Open Energy.
Professor of Biological Engineering Wei Huang moved to Oxford from the University of Sheffield in 2014. His research interests are synthetic biology, single cell biology and applications. His team at the Wei Huang Lab has established a novel bioengineering platform for synthetic biology, SimCells, a genetically reprogrammable 'artificial cellular machine'. This research will transform current synthetic biology based on living cells or cell-free system by providing an artificial cellular machine between living and non-living systems, and leveraging advantages of both. Professor Huang is also one of the pioneers of single cell Raman biotechnology which has been licensed to industry for various applications.
Professor of Data Readiness Susanna-Assunta Sansone leads the Data Readiness Group and is Associate Director of the Oxford e-Research Centre. Susanna has worked since 2001 (since 2010 in Oxford) in the areas of data interoperability and reproducibility, research integrity, and the evolution of scholarly publishing. Her group of research software and knowledge engineers researches and develops methods and tools to make digital research objects Findable, Accessible, Interoperable and Reusable (FAIR); delivering also open community resources such as FAIRsharing and the FAIR Cookbook. An author and an advocate of the FAIR Principles, adopted by funders and publishers in all disciplines, she is also the founding Academic Editor of the Springer Nature open access journal Scientific Data.
Professor of Informatics David Wallom is Associate Director – Innovation of the Oxford e-Research Centre, where he leads two separate research groups, Energy and Environmental ICT, and Advanced e-infrastructure & Cloud Computing. He has led over 90 research projects in areas such as climate change impact & attribution, energy demand modelling, cloud computing utilisation, cybersecurity, smart energy grids, research data management and citizen science. His research groups focus on questions of reliability, be that infrastructure and systems such as energy in the face of challenges such as climate change or cloud computing and cybersecurity. He is the founding Course Director for the MSc in Energy Systems launched in 2019 and founding Co-Editor in Chief of the prize winning Elsevier journal, SoftwareX.